Get ready, because on June 24th Kihei 4th Friday Town Party is back! After a 2 year hiatus, he monthly party in South Kihei returns from 6 to 9 p.m. at the Azeka Shopping Center – Mauka, the "heart and soul" of Kihei.
Kihei Town will be festive, with food, arts and crafts, and lots of great shopping deals to be found. The popular Keiki/Youth Zone will be back as well as loads of live music entertainment!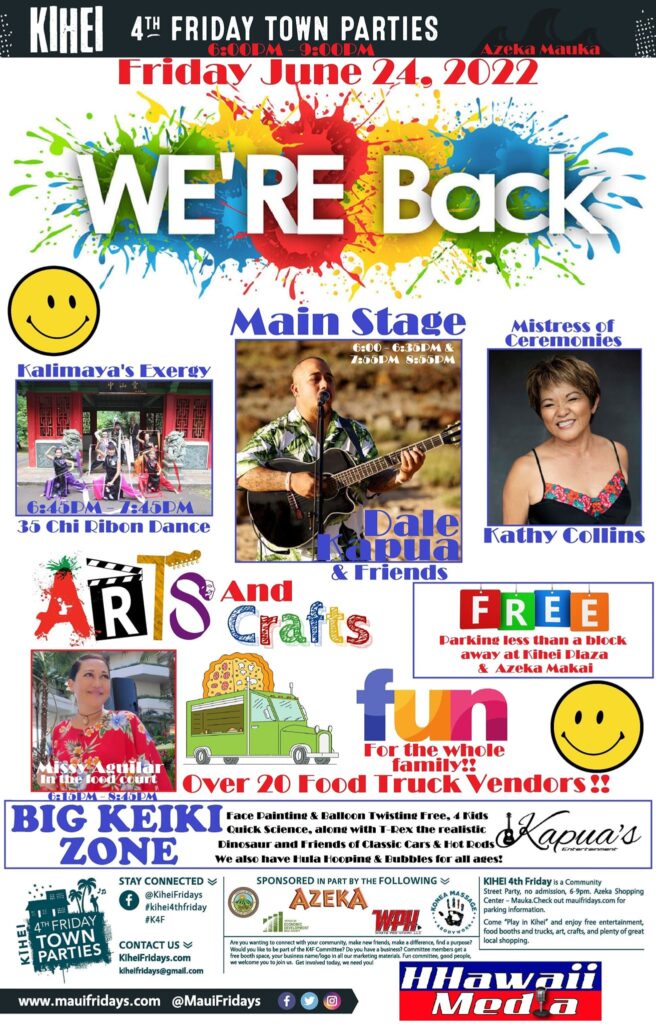 Schedule of Entertainment Events
– 6:00-7:00 p.m. – Dale Kapua
– 7:00-7:15 p.m. – Kalimaya's Chi Ribbon Dance
– 7:30-9:00 p.m. – Kapua's Entertainment
Let's Thank and Patronize Our Great Azeka Shopping Center Mauka Merchants:
– AA Oceanfront Rentals, Bank of Hawaii, ERA Pacific Properties, Noe, Kaiser Permanente, Liberty Tax Service, Maui Classic Charters, Powerhouse Gym, Snorkel Bob's, Territorial Savings Bank, The Last Resort, The Nail Shop, Inc., The Water Store and Zen Tatoo & Art Gallery.
Volunteers and Special Donations: Community Work Day Program, Habitat for Humanity, Pacific Wireless Communications, LLC, The Gym Maui.
Special Thanks to: Ao'ao Ona Loko I'a Omaui, Azeka Shopping Center, Exergy 35 Fitness Studio, KONI 104.7 FM, Chamber of Commerce, Maui Police Department, and MW Group, Ltd.
About Kihei Fourth Friday Town Parties:
Kihei Friday Town Parties are on the Fourth Friday of every month. Find us at www.kiheifridays.com, www.facebook.com/kiheifridays,
About Friday Town Parties:
Maui Friday Town Parties is an initiative developed by the Maui County Office of Economic Development to showcase our island's historic towns and celebrate the unique nature of their businesses communities.
For questions, contact the Maui County Office of Economic Development at [email protected] or 808.270.7710.
For more information online, check out the Island Wide event website at www.MauiFridays.com and on Instagram and Facebook: @MauiFridays